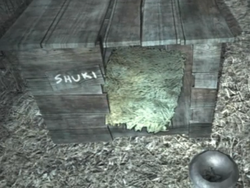 Shuki is the name of the dog belonging to the Shepherd family, mentioned in Silent Hill: Homecoming.
When Alex Shepherd returns home and enters the backyard, he notices the doghouse empty, upon which he comments, "Hey... where's the dog?". What seems to be the sound of dogs barking and growling can be heard in the background.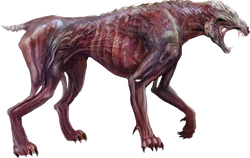 Later in the game, Alex is attacked by a Feral, a monster resembling a dog. It is unknown if the Ferals represent the twisted version of Shuki or not, albeit Shuki's spontaneous disappearance and timing in the game may suggest Shuki took form of a Feral, possibly the first one he comes across in Rose Heights Cemetery. However, it's also possible that Shuki died while Alex was in the mental hospital.
In the confession booth of the church, Adam Shepherd, Alex's father, remarks that he "treated the dog with more respect" than Alex.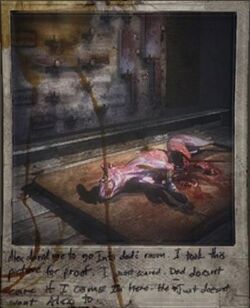 A photo can be found of a skinned dog in Adam's hunting room, possibly suggesting that Adam killed and skinned Shuki, although this seems overly cruel for Adam. It is also possible Shuki died from some other cause.