Shotgun
Talk

0
2,029pages on
this wiki
The shotgun in Silent Hill
Description
"Tough to use, but can attack opponents in a group."
Durability
Indestructible
Location(s)
Varies on game
Appearances
Silent Hill
Silent Hill 2
Silent Hill 3
Silent Hill: Origins
Silent Hill: The Arcade
Silent Hill: Homecoming
Silent Hill: Downpour
Silent Hill: Book of Memories

The Shotgun is a recurring firearm in the Silent Hill series. It is usually found mid-way through the game and is predominantly one of the most powerful weapons that can be found (with the exception of the rifle).
Ammo is scarce, so the Shotgun should be saved for bosses and tougher enemies. While it boasts power, it has low range, poor accuracy and slow reload times.
Silent Hill
"Fires in a wide radius. Holds up to 6 rounds."
The Shotgun in Silent Hill is found in the First Floor Boy's Bathroom in the Otherworld Midwich Elementary School. If missed at the school, it can also be found at the Police Station on the table in the annex room. It is more powerful than the handgun and the player can still move while firing; however, it's limited to six shells and has a slower reload time. Interestingly enough, it's a double-barrel shotgun with the stock and barrels sawn off and, as such, should only be able to hold two shells at the most. If ammunition is used only for bosses, the shotgun can be used as a primary weapon after defeating the Floatstinger. It was modeled after Ashley "Ash" Williams's shotgun from The Evil Dead and Harry Mason can run with it in one hand.
Silent Hill 2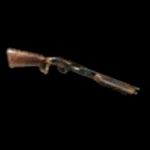 "Maximum capacity 6 shots. Tough to use, but can attack opponents in a group."
The shotgun in Silent Hill 2 is found in the Women's Locker Room on the 2nd Floor of Brookhaven Hospital. It is a potentially devastating weapon when used at point-blank range. It suffers a slower than average load time and is restricted to a tubular magazine capacity of six shells, so it's wise to avoid quick-moving bosses with this gun unless cornered.
This shotgun, as well as the one in Silent Hill 3 resembles a Remington 870.
Silent Hill 3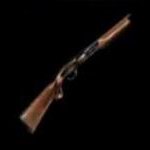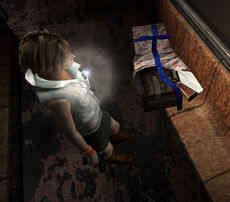 "Holds 6 rounds of ammunition. It's hard to handle, but has great range."
The shotgun in Silent Hill 3 is found aboard a stationary train carriage in Hazel Street Station, inside a present box. Similar to the other games, it's most effective at close-range and slow to reload, with a tubular magazine capacity of six shells; however, it does have better range than in the other games.
Silent Hill: Origins

"A wide-bore shotgun. This shotgun only takes two cartridges at a time, but at close range it's unstoppable."
The shotgun in Silent Hill: Origins is a powerful short range firearm. It differs from previous shotguns in the series in that it is double-barreled and break-action. Travis Grady can find the shotgun in the Cedar Grove Sanitarium, hanging on the door to the Otherworld Personal Items room on the first floor.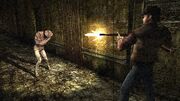 The shotgun is deadly at close range and can fell many enemies in one shot; however, compared to previous games in the series, it has the smallest capacity of any firearm, limited to just two shells. It is also the only weapon in the game that the player is required to acquire. This type of shotgun is typically associated with hunting, which is thematic with monsters such as the Carrion.
Travis is seen holding a shotgun in the cut scene before the final boss fight, though it has a different model to the one used in-game. It resembles a pump-action shotgun, despite there being none in the game.
Silent Hill: Homecoming
Individually named, two shotgun-type weapons can be found in Silent Hill: Homecoming.
12 Gauge Shotgun
"Devastating at close range, but fires and reloads slowly."
The 12 Gauge Shotgun in Silent Hill: Homecoming is given to Alex Shepherd by Deputy Wheeler at the Shepherd's Glen Police Station. It is very powerful at close range, but fires and reloads slowly. It has a tubular magazine capacity of four shells on Normal difficulty and three shells on Hard. A large drawback of this gun is that it must be reloaded every time it is pulled out (as with all guns in game, save the Laser Pistol) and must be pumped after every shot, meaning that Alex can be overrun very quickly if he is not careful enough.
It resembles a Winchester Model 1912.
Bluesteel 12 Gauge Shotgun

"Has increased damage and holds more ammunition over the regular shotgun."
The 12 Gauge Shotgun can be later replaced with the Bluesteel 12 Gauge Shotgun, found leaning on a cabinet in the hunting room within the basement of the Shepherd House. It's more powerful than the 12 Gauge Shotgun and has a higher tubular magazine capacity allowing for more ammunition. The tubular magazine capacity is five shells on Normal difficulty and four shells on Hard difficulty.
It resembles a Franchi SPAS-12 combat shotgun and has (as its name implies) a blued finish.
Silent Hill: Downpour
"Firearm for close-quarters combat."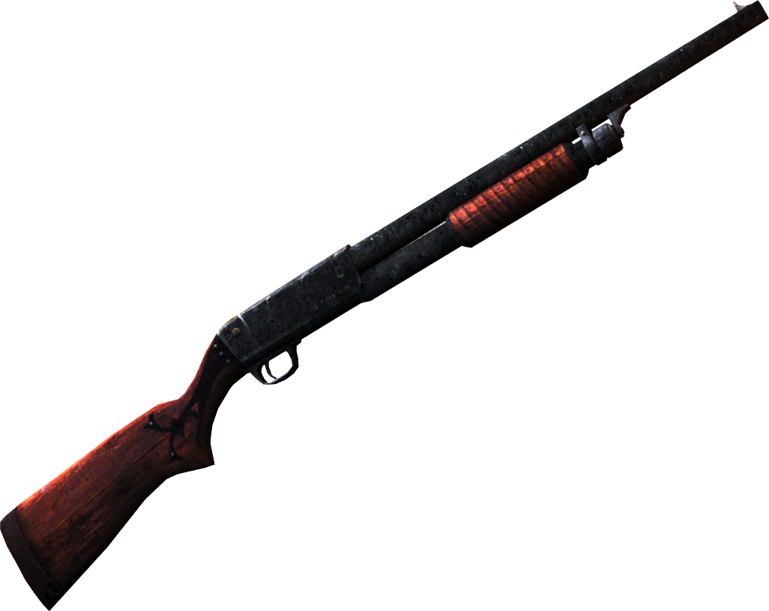 The shotgun appears in Silent Hill: Downpour. The player can carry it holstered on Murphy Pendleton's back. It holds 5 shells and has a decent stopping power at close ranges. Ammo is extremely rare, so it is advised that the player saves the shotgun for only the toughest enemies. There are only two locations in Silent Hill where a shotgun can be found: In the back of an ambulance next to a painting and in a store where the lightbulb is found. It can be found in the Overlook Penitentiary, where ammo is much more plentiful and many shotguns can be found.
Silent Hill: The Arcade

The shotgun in Silent Hill: The Arcade is found on stage 1-2: leaning against one of the rooms in Brookhaven Hospital, after the change to the Otherworld. The players are given an optional route beforehand to continue through the hospital, and if the player chooses to press onward through the doors they are rewarded with the shotgun. This shotgun strongly resembles the one from Silent Hill 2 and Silent Hill: 3, carrying a total of 24 shells for both players. As it is a pump action gun, the empty shell must be ejected after every shot.