Ad blocker interference detected!
Wikia is a free-to-use site that makes money from advertising. We have a modified experience for viewers using ad blockers

Wikia is not accessible if you've made further modifications. Remove the custom ad blocker rule(s) and the page will load as expected.
Shot Down In Flames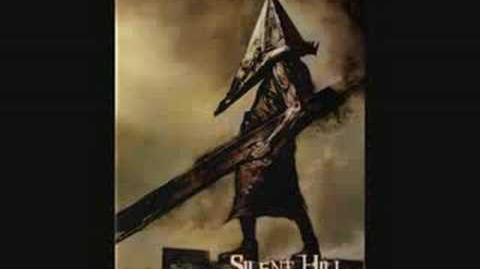 Album
Silent Hill: Zero Original Soundtracks
Artist
Akira Yamaoka
Vocals
Mary Elizabeth McGlynn
Shot Down In Flames is a song from Silent Hill: Origins. The song is track 1 in the game's soundtrack and was composed by Akira Yamaoka. Mary Elizabeth McGlynn is the vocalist for the song. It plays in the UFO Ending and in the credits.
Lyrics
Swear at the walls
They make fun of me
Day after day
Eyes that follow me
Is it you again?
Can this be the end forever?

See for your eyes
Child's heart that cries
Raven flight, flies
And the meaning dies
As it was before
It will be no more
Time does that

Say it again, like you said
Does it sound like you?
Where are you now?
Does the young one know you're here?
Breath on the glass
Once again, feel her pull you in
Nobody leaves, you won't let you
You're afflicted

Can you hide who you are?
Take a look at yourself
Can you stop what will be?
You think running will help?
Can't give up on the past
When the past never ends
Now the dead that you raised
Live in me

What have you done?
You're insane
Can you bring God down?
Plans that you make don't include me
One more time
Fire will dance on the wind
Bringing in your heart
Your sacrifice wasn't wanted
Still you try

Say it again, like you said
Does it sound like you?
Where are you now?
Does the young one know you're here?
Breath on the glass
Once again, feel her pull you in
Nobody leaves, you won't let you
You're afflicted
Trivia