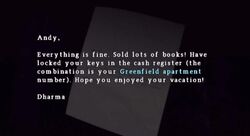 The Shop Memo is an item that Travis Grady finds in Silent Hill: Origins. He enters Andy's Books on his way trying to arrive to Riverside Motel and on the counter of the store, there's a cash register with a piece of written paper on it. The note gives Travis a hint about the number that will open the register. He can then pick up the bookstore key that will let him leave the store via the back door. The memo is signed by "Dharma".
Transcript
"Andy,


Everything is fine. Sold lots of books!

Have locked your keys in the cash register

(the combination is your Greenfield

apartment number). Hope you enjoyed

your vacation!


Dharma"
Ad blocker interference detected!
Wikia is a free-to-use site that makes money from advertising. We have a modified experience for viewers using ad blockers

Wikia is not accessible if you've made further modifications. Remove the custom ad blocker rule(s) and the page will load as expected.