A close up of The Shepherd Family Ring
Description
"Dad gave me this ring, moments before he was killed. He said it's been passed down through the generations."
Location
Church of the Holy Way
Appearances
Silent Hill: Homecoming
The Shepherd Family Ring is an item obtained in Silent Hill: Homecoming. It is given to Alex Shepherd by his father Adam Shepherd. The ring is obtained when the player completes the Church Organ Puzzle, and after meeting his father, Alex will proceed to the underground Lair. The family ring bears the crest of the Shepherd Family, and on the inside is the Halo of the Sun, the symbol of the Order.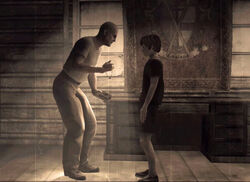 Prior to the events in Silent Hill: Homecoming, it is revealed that Alex was chosen to be the family's sacrifice, while Joshua was meant to carry on the family's name. Adam presents the ring to Joshua and explains to him that the ring has been passed down through generations, and according to him, it represents the family's past and future. Adam warns Joshua to never show the ring to anyone, and when asked why, Adam reminds Joshua that sometimes he will have to do things and not ask why. This brings the conversation to a close and the two hug.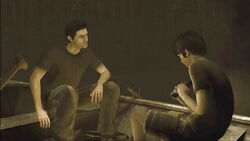 That night, Alex persuades Joshua to go out onto Toluca Lake with him. When Alex brings the rowboat to a stop, Joshua begins to get scared. Alex takes away his flashlight and begins to tease him, calling him a baby that can't do anything on his own. In an effort to prove Alex wrong, Joshua shows off the family ring. Alex grabs the ring and taunts him with it, this causes Joshua to try and grab the ring back, but as he pulls on the chain, Alex lets go. Joshua falls back onto the edge of the boat and breaks his neck, as a result of this, he drowns in the lake. Alex is able to get help but it is too late. Adam retrieves the body of Joshua, and subsequently, the family ring. Alex is sent away from home to a mental hospital shortly thereafter.
When Alex starts suffering from nightmares, with no memories of the accident, he is forced to endure a horrific quest through his hometown and the neighboring town of Silent Hill. Learning that Adam has gone to Silent Hill, Alex journey's there as well. Within the Church of the Holy Way, Alex encounters his father one last time. The two converse and Adam presents the ring to Alex and asks for forgiveness. Adam is then killed by the Bogeyman.
After Alex journeys through the Order's underground lair, the monstrous manifestation of Joshua, known as Amnion, appears. After its defeat, it is revealed to have the marred body of Joshua inside it. Alex decides to leave the family ring and flashlight with his brother, and he leaves.
Gallery