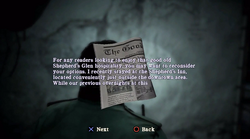 The Shepherd's Inn Article is a memo from Silent Hill: Homecoming found in Overlook Penitentiary in Cell B5. The article is a clipping from a travelogue about the Shepherd's Inn, which lies just on the outskirts of Shepherd's Glen.
Transcript
For any readers looking to enjoy that good old Shepherd's Glen hospitality, you may want to reconsider your options. I recently stayed at the Shepherd's Inn, located conveniently just outside the downtown area. While our previous overnights at this location were memorable, the year since their Sesquicentennial Celebration has not been kind to our neighboring burg. Our accommodations themselves were inhospitable, to put it mildly, and the locals seemed gruff and uninviting. Even the Town Hall, once a friendly way for tourists to learn about the area's culture, stood in exceeding disrepair. On day two--
Ad blocker interference detected!
Wikia is a free-to-use site that makes money from advertising. We have a modified experience for viewers using ad blockers

Wikia is not accessible if you've made further modifications. Remove the custom ad blocker rule(s) and the page will load as expected.