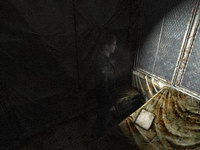 She is an Angel is a poem found in Room S11 on the third floor of the Otherworld Brookhaven Hospital in Silent Hill 2. The poem is a subtle clue for the "Lady of the Door" puzzle. In order to complete the puzzle, two objects are needed which are mentioned in the poem:
The first item is related to the "Bridge of Thread" stated in the poem. Once obtaining the copper ring, James Sunderland can examine it and see that it has an engraving of a spider, which creates bridges of their thread.
The second item is referred to as the "bloated and ugly corpses" of sin. After obtaining and examining the lead ring, it is clear that the bloated face engraved on the ring is what the poem alludes to.
Transcript
"She is an angel no one knows only

I can see the Lady of the Door

they cannot walk along her Bridge

of Thread they fall from the weight

of their crimes.


Like bloated and ugly corpses

their sins she devours them

sin and sinner alike she saves

me she is an angel"
Ad blocker interference detected!
Wikia is a free-to-use site that makes money from advertising. We have a modified experience for viewers using ad blockers

Wikia is not accessible if you've made further modifications. Remove the custom ad blocker rule(s) and the page will load as expected.