Description
"Old doll given by the man sitting on the apartment's stairway"
Purpose
Causes a haunting
Location
Stairway, Apartment World
Appearances
Silent Hill 4: The Room
"
I got this from Miss Galvin a long, long time ago... She was younger than me back then... She looked so happy holding her mother's hand... Here, I'll give it to you.
—Walter to Henry Townshend

"
The Shabby Doll is an optional item offered to Henry Townshend by Walter Sullivan in the apartment world in Silent Hill 4: The Room.
Origin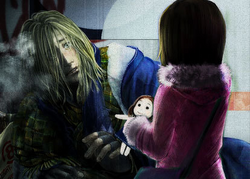 It is the exact same doll that a 5-year-old Eileen Galvin gave to a homeless Walter in order to cheer him up. She told him that he could sleep with her and Walter cried sorrowfully, but perhaps also in happiness, after receiving it because it was one of the few or perhaps only act of kindness from another human being he received in his entire life. When Eileen gave it to Walter, it was brand new, but now, it has become shabby. Walter kept it for a long time.
Silent Hill 4: The Room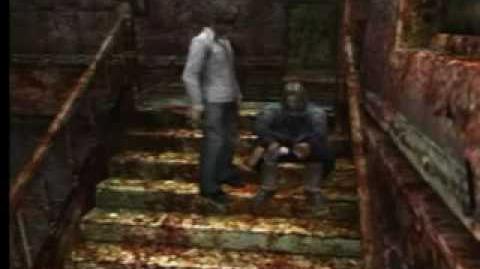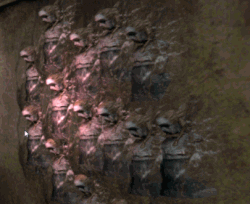 It is advised not to take the doll, as it serves no purpose other than to cause a particular haunting to occur. Should Henry accept the doll and put it into his inventory, a haunting will eventually manifest above the box. The haunting resembles 15 baby-like dolls fused to the wall and wailing, and like other hauntings, will cause damage to Henry if he goes near it. If Henry exorcises the haunting, the Shabby Doll will disappear from the item box.
Ad blocker interference detected!
Wikia is a free-to-use site that makes money from advertising. We have a modified experience for viewers using ad blockers

Wikia is not accessible if you've made further modifications. Remove the custom ad blocker rule(s) and the page will load as expected.