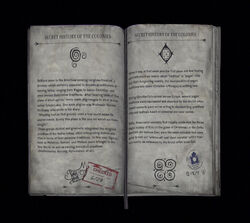 Secret History of The Colonies is a book that Murphy Pendleton can find in the Centennial Building during his journey in Silent Hill: Downpour.
Transcript
Settlers came to the Americas seeking religious freedom, a promise which certainly appealed to Gnostic practitioners of varying faiths; ranging from Pagan to Judeo-Christian, and even ancient Babylonian traditions. After hearing tales of 'the place of silent spirits,' many made pilgrimages to what is now called Toluca Lake. One such Pilgrim was Professor Horace Holloway, who wrote in his diary:
"Stepping foot on that ground, even a fool could sense its sacred nature. Surely this place is the one for which we have sought."
These groups studied and gradually integrated the religious practices of the Native tribes, often interpreting deities and rites in terms of their personal traditions. In this way, figures such as Metatron, Samael, and Molech were brought to the New World, as well as varying divination practices (Ornithomanct, Scurying, Gyromancy, et al,).
While it may at first seem peculiar that pious and God fearing colonist would so readily adopt "heathen" or "pagan" rites into their burgeoning society, the incorporation of pagan traditions into Judeo-Christian orthodoxy is nothing new.
During Christianity's spread across Europe, several pagan traditions were repurposed and absorbed by the church when recent converts were not so willing to abandon long-practiced rites and festivals based on seasonal and lunar cycles.
Sadly, these same colonists that happily celebrated the Norse pagan holiday of Yule (in the guise of Christmas) or Celtic Samhain (All Hallows Eve) were the same colonists that were quick to root out "witchcraft," and "devil worship" within their community, as evidenced by the brutal witch trials that-
Trivia
Ad blocker interference detected!
Wikia is a free-to-use site that makes money from advertising. We have a modified experience for viewers using ad blockers

Wikia is not accessible if you've made further modifications. Remove the custom ad blocker rule(s) and the page will load as expected.