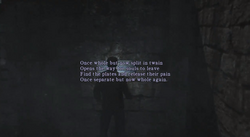 The Second Gate Note is found in Rose Heights Cemetery in Silent Hill: Homecoming. It is also found on a wall in the West Garden just like the First Gate Note.
Transcript
Once whole but now split in twain
Opens the way for souls to leave
Find the plates and release their pain
Once separate but now whole again.