The screwdriver from Silent Hill
Description
"Tool for screws. Rusted, but usable."
Purpose
Unscrews panel in Morgue, Nowhere (Silent Hill)
Opens drawer in Hilltop Center (Silent Hill 3)
Location
Basement Floor, Nowhere (Silent Hill)
Gallery of Fine Arts, Hilltop Center (Silent Hill 3)
Appearances
Silent Hill
Silent Hill 3
For the weapon in Silent Hill: Origins, see Screwdriver (weapon).
The Screwdriver is an item found in Silent Hill and Silent Hill 3.
Silent Hill
Harry Mason can find it in the room beyond the classroom on the basement floor of Nowhere, on top of a gurney in the same room the pliers can be found in. The screwdriver is used to unscrew the metal panel on the wall of a room on the second floor of Nowhere. Unscrewing the panel reveals the Key of Aratron hidden behind it.
Silent Hill 3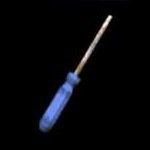 Heather Mason can find the screwdriver lying on a box in the northeastern corridor on the fifth floor of the Hilltop Center, in the same area as the Gallery of Fine Arts. Heather uses the screwdriver in order to open a jammed drawer in an office room of Monica's Dance Studio. Inside the drawer, Heather will find the rope, which she can use to climb down the elevator shaft.
Unlike most other items, the screwdriver only appears if the puzzle difficulty level is above easy. If playing on easy, the drawer containing the rope will simply be left open.
Gallery