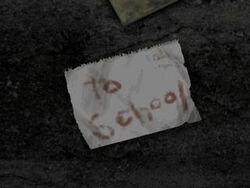 The School Note is a memo found in Silent Hill. Harry Mason can locate it at the end of Bachman Road's alley next to some rubble. It was left behind by Harry's daughter, Cheryl Mason. It simply directs to him locate her by instructing him to go to school.
Transcript
To school
Ad blocker interference detected!
Wikia is a free-to-use site that makes money from advertising. We have a modified experience for viewers using ad blockers

Wikia is not accessible if you've made further modifications. Remove the custom ad blocker rule(s) and the page will load as expected.