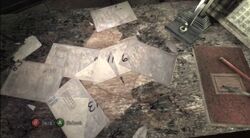 This article is a guide for a Silent Hill: Downpour puzzle.
On the first floor of the Centennial Building library, in a room that can only be opened by a security ID card, Murphy Pendleton comes across a desk with several Scattered Envelopes strewn across it. Rearranging the envelopes gives Murphy the code needed to unlock a door to the northern hallway of the second floor.
Solution
On Easy, two of the envelopes cannot be moved. Similarly, only one envelope is immobile on Normal. The remaining envelopes can be rotated and moved, and envelopes that need to go beneath or above the other pages will do so automatically. On Hard, all of the envelopes are moveable. There is also an outline on the table and markings along the envelopes to guide the player. When properly arranged, the code 851136 will be revealed and recorded in Murphy's diary.
Gallery
Ad blocker interference detected!
Wikia is a free-to-use site that makes money from advertising. We have a modified experience for viewers using ad blockers

Wikia is not accessible if you've made further modifications. Remove the custom ad blocker rule(s) and the page will load as expected.