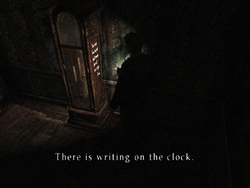 The Scars from the Past is a message engraved on the side of a grandfather clock in Room 208 on the second floor of the Wood Side Apartments in Silent Hill 2. The engraving is used as a clue for solving the Clock Puzzle.
Transcript
"The scars from the past shall

remove the nail that stops Time."