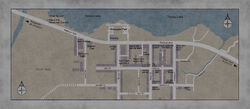 Saul Street is a road that James Sunderland must cross in Silent Hill 2. It is located in the South Vale portion of the town of Silent Hill and connects Neely Street and Harris Street, while a covered passageway at the western end links the road to Munson Street. Saul Street is also the location of a motor home that James can enter, where he can find a memo that gives him a clue as to where to go next.
Silent Hill 2
While exploring the eastern part of South Vale, James finds a motor home that he can enter. The motor home contains a memo, which can be found on a couch, that leads him to Neely's Bar in search of more clues. Later in the game, after James leaves Brookhaven Hospital and the whole of South Vale is consumed by the Otherworld, James must use the Saul Street Passage since all other accessways in the town are blocked. Inside the passage, he encounters a new kind of monster, the Mandarin.
Gallery
Ad blocker interference detected!
Wikia is a free-to-use site that makes money from advertising. We have a modified experience for viewers using ad blockers

Wikia is not accessible if you've made further modifications. Remove the custom ad blocker rule(s) and the page will load as expected.