Saint Medallion
Talk

0
2,081pages on
this wiki
Description
"Can be equipped along with a weapon. Anti-spirit effects while held, but will eventually break"
Purpose
Repels supernatural phenomena
Location
Various locations
Appearances
Silent Hill 4: The Room
The Saint Medallion is an item obtainable in Silent Hill 4: The Room. Its aura repels all supernatural phenomena including ghosts, wheelchairs and the Hauntings that occur in Room 302. When held in the presence of a ghost, its movement will become slower, however, they are still capable of dealing damage. After being held for a period of time it will break and lose its power permanently. They can be found in various locations but are not as abundant as the Holy Candle.
Henry Townshend discovers the existence of the medallions, along with the Holy Candle, when he is given a red letter from Joseph Schreiber under Room 302's front door. The letter reads:
"
I've found two mysterious and powerful artifacts that seem to be very effective for evading the ghost-victims: the Holy Candle and the Saint Medallion. Not only are they effective against the ghost-victims in the Other World, they also seem to prevent them from invading my room. Just light the candle near where they're coming in and its holy power is activated. The Saint Medallion seems to repel unholy energy when it's worn (equipped). I'm starting to gain some hope.
"
Trivia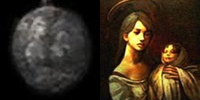 If examined closely, the medallion depicts an image of a mother and child: "Saint Alessa." The exact picture is featured in a chapel found in Silent Hill 3.
See also