Description
"A rusted bloody key, inscribed on it is: "He who holds this key shall wander for eternity."
Purpose
Unlocks the Wish House Orphanage
Location
Underneath some roots in the Forest World
Appearances
Silent Hill 4: The Room
The Rusted Bloody Key is a key that Henry Townshend finds in Silent Hill 4: The Room.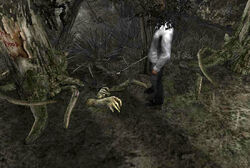 There is a clue to its location written on the bloody spade he receives from Jasper Gein in exchange for the chocolate milk. The key is under a cluster of roots that look eerily similar to a hand coming up from the ground in the Forest World. Henry must use the spade to dig under them and retrieve the key.
When Henry tries to get back to the Wish House Orphanage, as long as the key is in his inventory he goes in a never-ending loop, unable to advance to the next area, something that was obscurely hinted upon via writing on the key. He must travel through a hole back to Room 302 and place the key in the storage box in order to reach the orphanage. From there, he can travel back to the apartment through another hole and bring the key back from the storage box.
Ad blocker interference detected!
Wikia is a free-to-use site that makes money from advertising. We have a modified experience for viewers using ad blockers

Wikia is not accessible if you've made further modifications. Remove the custom ad blocker rule(s) and the page will load as expected.