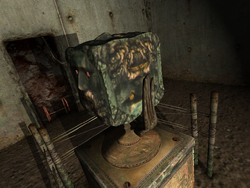 This article is a guide for a Silent Hill 2 puzzle.
The Rotating Cube Puzzle is a puzzle in Silent Hill 2, located in the Labyrinth. When James Sunderland turns the cube horizontally or vertically, it also turns a room with different holes (doors) in the corresponding way. This puzzle is mostly a guessing game, but it is much easier to solve if the player observes the position of the doors in the proceeding room and how they shift with the cube.
Solution
The solution to the puzzle is the upside-down face with yellow eyes in all difficulties, except Extra Riddle.
In Extra Riddle, the solution is the normal face with red eyes.
James will find an open doorway that he can pass through in the other room.
Gallery
Ad blocker interference detected!
Wikia is a free-to-use site that makes money from advertising. We have a modified experience for viewers using ad blockers

Wikia is not accessible if you've made further modifications. Remove the custom ad blocker rule(s) and the page will load as expected.