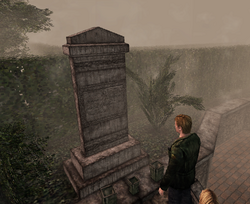 The Rosewater Memorial is found on the promenade in Rosewater Park, just after meeting Maria for the first time in Silent Hill 2. It is a memorial for sixty-seven people who died of a mysterious illness in Silent Hill's past.
If the game's "In Water" ending is canon, the Rosewater Memorial may serve as foreshadowing of Mary Shepherd-Sunderland's and James Sunderland's fate (although Mary more than James because she has a disease).
Transcript
"In memory of the sixty seven

who died of illness and now sleep

beneath the lake."
Ad blocker interference detected!
Wikia is a free-to-use site that makes money from advertising. We have a modified experience for viewers using ad blockers

Wikia is not accessible if you've made further modifications. Remove the custom ad blocker rule(s) and the page will load as expected.