Description
"A simple, grubby motel key with the label '306'"
Purpose
Unlocks Room 306 in Riverside Motel
Location
Riverside Motel's Reception
Appearances
Silent Hill: Origins
The Room 306 Key is a key Travis Grady picks up in the Riverside Motel's Reception in Silent Hill: Origins. It is found hanging on the wall behind the desk of the reception.
The key unlocks the room 306 in the motel, where Travis can find items and a memo with clues about his past.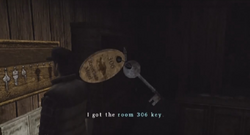 Ad blocker interference detected!
Wikia is a free-to-use site that makes money from advertising. We have a modified experience for viewers using ad blockers

Wikia is not accessible if you've made further modifications. Remove the custom ad blocker rule(s) and the page will load as expected.