Description
"This was in a cookie jar. I always dreamed I'd have one of these. The tag says, 'Mountain Coaster'."
Purpose
Unlocks the roller coaster control room
Location
Souvenir Shop, Lakeside Amusement Park
Appearances
Silent Hill 3
The Roller Coaster Key is a key that Heather Mason obtains nearing the end of Silent Hill 3 while she is at Lakeside Amusement Park.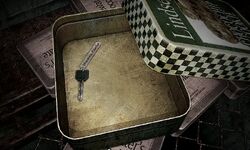 Heather finds the key inside of a cookie tin in the souvenir shop that was visited in her nightmare sequence. As Heather attempts to leave the shop, a series of cookie tins fall over, revealing the hidden key, along with a save point.
The key unlocks the door to the control room of the Mountain Coaster ride. Heather needs to access the control room in order to block power to the roller coaster car so that she may cross the tracks. The roller coaster eventually turns back on and Heather is forced to jump off the tracks in a brief cutscene. Unless the car is first turned off in the control room, Heather does not sense the oncoming car and automatically dies.
Trivia