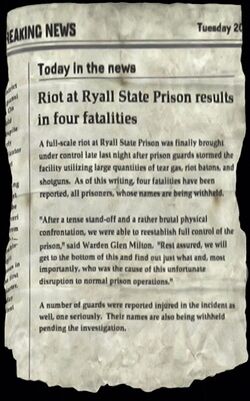 Riot News is a memo from Silent Hill: Downpour. It is located in Pearl Creek, at the end of Brite Street, near the Pearl Creek Bank. The newspaper article outlines a riot at Ryall State Prison which was instigated by George Sewell to be used as a distraction so Murphy Pendleton could kill Frank Coleridge. The seriously injured guard in the article is likely referring to Frank.
Transcript
Riot at Ryall State Prison results in four fatalities
A full-scale riot at Ryall State Prison was finally brought under control late last night after prison guards stormed the facility utilizing large quantities of tear gas, riot batons, and shotguns. As of this writing, four fatalities have been reported, all prisoners, whose names are being withheld.
"After a tense stand-off and a rather brutal physical confrontation, we were able to reestablish full control of the prison," said Warden Glen Milton. "Rest assured, we will get to the bottom of this and find out just what and, most important, who was the cause of this unfortunate disruption to normal prison operations."
A number of guards were reported injured in the incident as well, one seriously. Their names are also being withheld pending the investigation.
Gallery