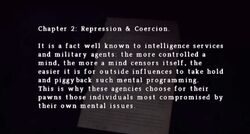 Repression and Coercion is a chapter torn from a book that Travis Grady can find in Silent Hill: Origins. It is located in the library scene on the first floor stage of Artaud Theater's Otherworld.
Transcript
"Chapter 2: Repression & Coercion


It is a fact well known to

intelligence services and military

agents: the more controlled a

mind, the more a mind censors

itself, the easier it is for outside

influences to take hold and

piggyback such mental

programming.


This is why these agencies choose

for their pawns those individuals

most compromised by their own

mental issues."