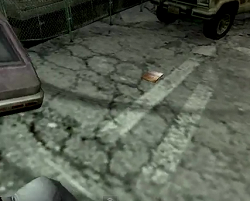 Reminisces is a memo that Henry Townshend finds when visiting the Building World a second time in Silent Hill 4: The Room, written by Eric Walsh. It is located on the ground between two cars near the door Henry uses to enter the Building World. It looks like a diary and gives the needed clues to solve the Four Reminiscences Puzzle. When resolved, the puzzle gives Eileen Galvin a way to go to the stairway that leads to the exit door with Henry.
Transcript
I want to go back to that time...

Things were so good then...

The day of my birthday...

The cute cat in that pet store...

All those balls in the basket...

Playing pool was fun too...

The door of time was wide open...
Ad blocker interference detected!
Wikia is a free-to-use site that makes money from advertising. We have a modified experience for viewers using ad blockers

Wikia is not accessible if you've made further modifications. Remove the custom ad blocker rule(s) and the page will load as expected.