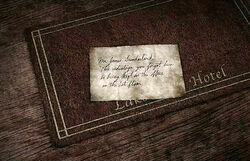 The Receptionist Memo is a note found on the lobby receptionist desk in the Lakeview Hotel in Silent Hill 2. The note in question is in regards to the video tape that James Sunderland left behind by accident in the hotel after his visit with his wife, Mary Shepherd-Sunderland.
Transcript
"Mr. James Sunderland,

The video tape you forgot here

is being kept in the office on

the 1st floor."