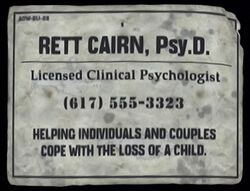 The Psychologist Business Card in Silent Hill: Downpour is found on a desk of a second floor office (room which leads to third floor) in the archives section of the Centennial Building. It is the business card of a clinical psychologist specializing in helping individuals cope with the loss of a child. This could possibly be referring to a psychologist that Murphy Pendleton consulted for help and guidance after the death of his son, Charlie Pendleton.
Transcript
Rett Cairn, Psy.D.
Licensed Clinical Psychologist
(617) 555-3323
Helping individuals and couples cope with the loss of a child.