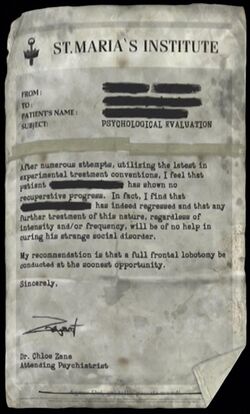 The Psychological Evaluation (2) is found in some drawers in an office room (near the X-ray room) on the second floor of St. Maria's Monastery in Silent Hill: Downpour. This is an evaluation into a patient of the institute that underwent numerous experiments, but showed no recovery in his social disorder problems. Chloe Zane, due to the nature of the situation, recommended a full frontal lobotomy to be conducted.
Transcript
ST. MARIA'S INSTITUTE
From: _______ ________
To: _______ ________
Patient's Name: _______ ________
Subject: Psychological Evaluation
After numerous attempts, utilizing the latest in experimental treatment conventions, I feel that patient _______ ________ has shown no recuperative progress. In fact, I find that _______ ________ has indeed regressed and that any further treatment of this nature, regardless of intensity and/or frequency, will be of no help in curing his strange social disorder.
My recommendation is that a full frontal lobotomy be conducted at the soonest opportunity.
Sincerely,
Dr. Chloe Zane
Attending Psychiatrist