Psychological Evaluation (1)
Talk

0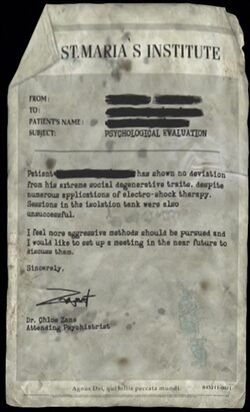 The Psychological Evaluation (1) is found inside a desk drawer of an office room (near the play room) on the second floor of St. Maria's Monastery in Silent Hill: Downpour. This is an evaluation into a patient of the institute, conducted by Chloe Zane, who had therapy and multiple sessions in an isolation tank in an attempt to deviate the patient from his extreme social degenerative traits.
Transcript
ST. MARIA'S INSTITUTE
From: _______ ________
To: _______ ________
Patient's Name: _______ ________
Subject: Psychological evaluation
Patient _______ ________ has shown no deviation from his extreme social degenerative traits, despite numerous applications of electro-shock therapy. Sessions in the isolation tank were also unsuccessful.
I feel more aggressive methods should be pursued and I would like to set up a meeting in the near future to discuss them.
Sincerely,
Dr. Chloe Zane
Attending Psychiatrist