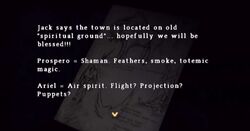 The Production Notes are found in Silent Hill: Origins. Travis Grady can locate it in the first floor Men's Dressing Room of the Artaud Theater.
Transcript
"Jack says the town is located on

old 'spiritual ground'... hopefully we

will be blessed!


Prospero = Shaman. Feathers,

smoke, totemic magic.


Ariel = Air spirit. Flight?

Projection? Puppets?


Caliban = Buffalo spirit. Skins +

Berkoffian performance. On all fours.

Poor actor!"
Trivia
The Caliban and Ariel are both monsters featured in the game. As for the shaman, another memo states that Alessa Gillespie, who was present at the theater, "intensely disliked" him. This may be due to Alessa being ritualistically burned alive, as the shaman was tied into magic and smoke.
Ad blocker interference detected!
Wikia is a free-to-use site that makes money from advertising. We have a modified experience for viewers using ad blockers

Wikia is not accessible if you've made further modifications. Remove the custom ad blocker rule(s) and the page will load as expected.