James shooting the invisible monster
The Prisoners are two unseen monsters found in Toluca Prison in Silent Hill 2. They are located in one cell in each of the prison keeping hallways and seem to chant "ritual" in a deep, monstrous voice. Although the radio does not emit static in their presence, the Book of Lost Memories notes them as monsters.[1]
Despite the fact that they cannot be seen by the player, James Sunderland can ready a weapon, attack and even kill the creatures using a firearm. However, they are completely harmless and James is in no danger from the creatures. They emit a very human-like cry if killed.
Symbolism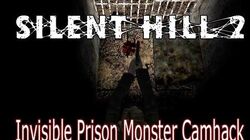 The Prisoners seem to chant "ritual". It's unclear why these Prisoners are there.
One prevalent theory is that the Prisoners were discussing a ritual involving inmates being sacrificed by the executioners of the prison (the Valtiel sect of the Order).
They could be referring to the "Rebirth" ending. When "ritual" is reversed, it sounds like "Are you sure?". This could represent James's conflicting thoughts on whether or not he should perform the ritual for Mary's Shepherd-Sunderland's resurrection. Similarly, "The Reverse Will", the ending music of the "Rebirth" ending, contains subliminal messages that can only be heard when the song is reversed.
The Prisoner could represent Mary, as it is a defenseless being entrapped in a room and James (depending on the player's action) puts it out of its misery.
The Prisoner could support past theories about how James is, in a way, similar to Pyramid Head, due to the oppressive dominance James displays if he shoots it.
Trivia
The Prisoners are one of the several monsters that are conscious and can speak in their monstrous forms, the others being Mary, Twin Victim, Bottom, Leonard Wolf, Momma, Steel Guardian, Bloodied Bag, Monocle Man, Alessa, Lucas, Ben, and Karen. Note that the Sad Daddy could speak only in its human manifestation.

However the Prisoners are not seen speaking specifically towards James or any other human, but seem to repeat one phrase, so presence of their conscious is questinable.
References
Audio
"Are you sure?"

"Ritual" reversed
"Ritual"

The Prisoner's voice chanting "ritual"