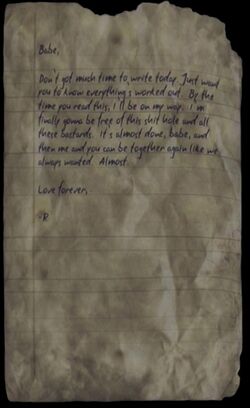 The Prisoner's Letter (4) is found in Silent Hill: Downpour on the floor of a small room north of the workshop area in Block B of the Overlook Penitentiary. This is one of many letters from prison inmate Ricky. From face value, this letter makes it sound like he is soon to be released from prison. However, in conjunction with his other letters and the way he words this one, "Me and you can be together again like we always wanted. Almost," possibly implies that he is about to commit suicide as that is his only true escape from prison, and his only way of reuniting with his wife/girlfriend. This is supported by a noose being found in the same room as the letter.
Transcript
Babe,
Don't got much time to write today. Just want you to know everything's worked out. By the time you read this, I'll be on my way. I'm finally gonna be free of this shit hole and all these bastards. It's almost done, babe, and then me and you can be together again like we always wanted. Almost.
Love forever,
-R
Ad blocker interference detected!
Wikia is a free-to-use site that makes money from advertising. We have a modified experience for viewers using ad blockers

Wikia is not accessible if you've made further modifications. Remove the custom ad blocker rule(s) and the page will load as expected.