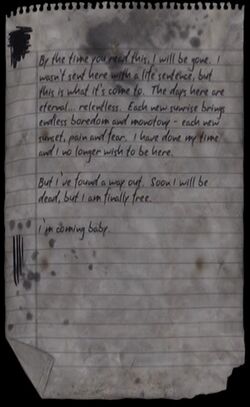 This Prisoner's Letter (3) is found in Silent Hill: Downpour, in a southern cell, in Block B of the Overlook Penitentiary. This letter is probably another letter from Ricky, a prisoner who has wrote other letters to his wife/girlfriend. This is his third letter and is written is such a style that it seems to imply he may very well soon be committing suicide.
Transcript
By the time you read this, I will be gone. I wasn't sent here with a life sentence, but this is what it's come to. The days here are eternal...relentless. Each new sunrise brings endless boredom and monotony - each new sunset, pain and fear. I have done my time and I no longer wish to be here.
But I've found a way out. Soon I will be dead, but I am finally free.
I'm coming baby.