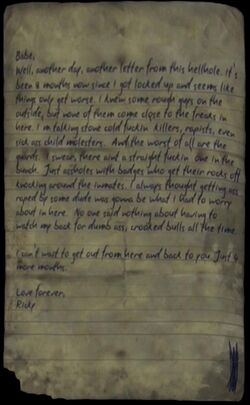 This Prisoner's Letter (1) is found in Silent Hill: Downpour, on level A3 in a western cell, located on a table in the Overlook Penitentiary. This letter is from a inmate called Ricky to his girlfriend/wife. He is serving a years sentence, with extremely dangerous killers and rapists not to mention corrupt guards.
Transcript
Babe,
Well, another day, another letter from this hellhole. It's been 8 months now since I got locked up and seems like things only get worse. I knew some rough guys on the outside, but none of them come close to the freaks in here. I'm talking stone cold fuckin killers, rapists, even sick ass child molesters. And the worst of all are the guards. I swear, there aint a straight fuckin one in the bunch. Just assholes with badges who get their rocks off knocking around the inmates. I always thought getting ass raped by some dude was gonna be what I had to worry about in here. No one said nothing about having to watch my back for dumb ass, crooked bulls all the time.
I can't wait to get out from here and back to you. Just 4 more months.
Love forever,
Ricky