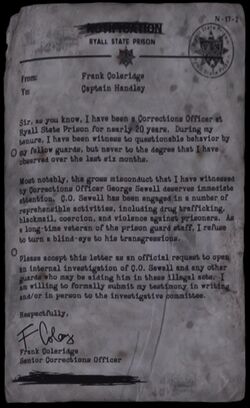 The Prison Notification is found in Silent Hill: Downpour, near a locker in the day room on the second floor of Block B in the Overlook Penitentiary. This is a report from Frank Coleridge regarding his suspicions and various allegations into fellow Corrections Officer George Sewell's corrupt behavior.
Transcript
NOTIFICATION
Ryall State Prison
From: Frank Coleridge
To: Captain Handley
Sir, as you know, I have been a Corrections Officer at Ryall State Prison for nearly 20 years. During my tenure, I have been witness to questionable behavior by my fellow guards, but never to the degree I have observed over the last six months.
Most notably, the gross misconduct that I have witnessed by Corrections Officer George Sewell deserves immediate attention. C.O. Sewell has been engaged in a number of reprehensible activities, including drug trafficking, blackmail, coercion, and violence against prisoners. As a long-time veteran of the prison guard staff, I refuse to turn a blind-eye to his transgressions.
Please accept this letter as an official request to open an internal investigation of C.O. Sewell and any other guards who may be siding him in these illegal acts. I am willing to formally submit my testimony in writing and/or in person to the investigative committee.
Respectfully,
Frank Coleridge
Senior Corrections Officer
Ad blocker interference detected!
Wikia is a free-to-use site that makes money from advertising. We have a modified experience for viewers using ad blockers

Wikia is not accessible if you've made further modifications. Remove the custom ad blocker rule(s) and the page will load as expected.