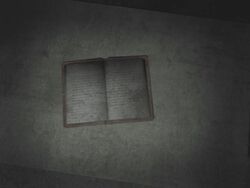 The Prison Diary is a memo found in the Water Prison World in Silent Hill 4: The Room. It is located on the nightstand in the lower east cell within the 3F cellblock.
Transcript
We had beef stew yesterday.
In the cafeteria, I heard there's a death chamber behind the kitchen, and they
take meat straight from the dead people and cook it.
That really scared me.
Ad blocker interference detected!
Wikia is a free-to-use site that makes money from advertising. We have a modified experience for viewers using ad blockers

Wikia is not accessible if you've made further modifications. Remove the custom ad blocker rule(s) and the page will load as expected.