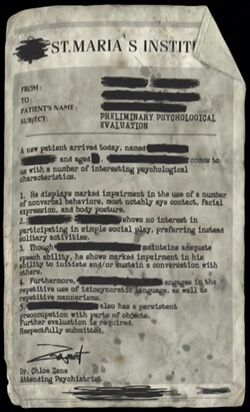 The Pre Psychological Evaluation is found on a desk in a room connected to a class room on the second floor of St. Maria's Monastery in Silent Hill: Downpour. This memo is an evaluation, conducted by Chloe Zane, on a new patient at the institute, whom is noted of having interesting psychological characteristics.
Transcript
ST. MARIA'S INSTITUTE
From: _______ _______
To: _______________
Patient's Name: ____________
Subject: Preliminary psychological evaluation
A new patient arrived today, named _______ ________ and aged __. __________ comes to us with a number of interesting psychological characteristics.
1. He displays marked impairment in the use of a number of nonverbal behaviors, most notably eye contact, facial expression, and body posture.
2. _______ ________ shows no interest in participating in simple social play, preferring instead solitary activities.
3. Though _______________ maintains adequate speech ability, he shows marked impairment in his ability to initiate and/or sustain a conversation with others.
4. Furthermore, _______________ engages in the repetitive use of idiosyncratic language, as well as repetitive mannerisms.
5. _______ ________ also has a persistent preoccupation with parts of objects.
Further evaluation is required.
Respectfully submitted,
Dr. Chloe Zane
Attending Psychiatrist
Ad blocker interference detected!
Wikia is a free-to-use site that makes money from advertising. We have a modified experience for viewers using ad blockers

Wikia is not accessible if you've made further modifications. Remove the custom ad blocker rule(s) and the page will load as expected.