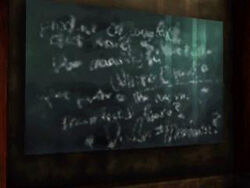 The Police Station Chalkboard can be found by Harry Mason in Silent Hill. It is located in the side room of the Silent Hill Police Station, which is an optional location in the game.
Transcript
"Product only available in

selected areas of Silent Hill.


Raw material is White Claudia,

a plant peculiar to the area.

Manufactured here?


Dealer = manufacturer?"