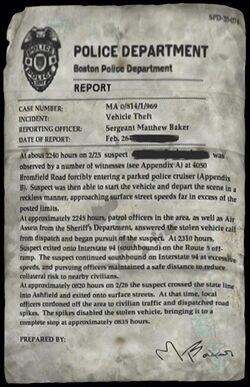 The Police Report is located in the Hillside Police Station in Silent Hill: Downpour. It can be found just to the left of the entrance on the ground. Presumably, the report is a detailed description on the events leading to Murphy Pendleton's imprisonment in order to exact revenge on Patrick Napier.
Transcript
Boston Police Department
REPORT
Case Number: MA 0/814/1/969
Incident: Vehicle Theft
Reporting Officer: Sergeant Matthew Baker
Date of Report: Feb.26
At about 2240 hours on 2/25 suspect _____ _______ was observed by a number of witnessed (see Appendix A) at 4050 Bromfield Road forcibly entering a parked police cruiser (Appendic B). Suspect was then able to start the vehicle and depart the scene in a reckless manner, approaching surface street speeds far in excess of the posted limits. At approximately 2245 hours, patrol officers in the area, as well as Air Assets from the Sheriff's Department, answered the stolen vehicle call from dispatch and began pursuit of the suspect. At 2310 hours, Suspect exited onto Interstate 94 (southbound) on the Route 5 off-ramp. The suspect continued southbound on Interstate 94 at excessive speeds, and pursuing officers maintained a safe distance to reduce collateral risk to nearby civilians. At approximately 0820 hours on 2/26 the suspect crossed the state line into Ashfield and exited onto surface streets. At that time, local officers cordoned off the area to civilian traffic and dispatched road spikes. The spikes disabled the stolen vehicle, bringing it to a complete stop at approximately 0835 hours.
PREPARED BY
M. Baker
Trivia
The Interstate freeway that runs southbound in Boston is actually Interstate 95. Interstate 94 runs through the midwest, from Minnesota through Wisconsin, Illinois, and Indiana to Michigan and runs east to west.