Ad blocker interference detected!
Wikia is a free-to-use site that makes money from advertising. We have a modified experience for viewers using ad blockers

Wikia is not accessible if you've made further modifications. Remove the custom ad blocker rule(s) and the page will load as expected.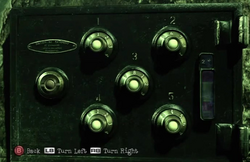 This article is a guide for a Silent Hill: Downpour puzzle.
After completing the Ashes to Ashes sidequest, a five-digit code will appear on the bench in the ashes. The code unlocks the Pleasant River Safe, which is in the same house the urn was found in; it is on the second floor, in the second room. The safe contains multiple dials, some of which will automatically turn other dials. Inside the safe is a Colt .45 handgun.
Solution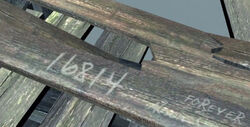 The code of the safe, 16814, is the code for the three different difficulty levels. The solutions are as follows.
Easy
Turn dial 1 right three clicks
Turn dial 2 left four clicks
Turn dial 3 left four clicks
Turn dial 4 left two clicks
Turn dial 5 right two clicks
Normal
Turn dial 1 right three clicks
Turn dial 2 left four clicks
Do not turn dial 3
Turn dial 4 left two clicks
Turn dial 5 two right clicks
Hard
Turn dial 2 left four clicks
Turn dial 5 right two clicks
Do not turn dial 4
Turn dial 3 right one click
Then dial 1 right one click