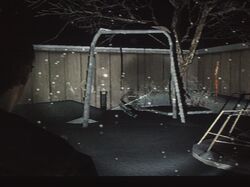 Playground is an echo message in Silent Hill: Shattered Memories that Harry Mason can receive after photographing the ghost at the swing in the Alice Darling Memorial Playground. It is a voice-mail of a sad or scared Cheryl Mason speaking to her father.
The message may be different, according to the player's Psych Profile.
Transcript
Variation 1:
Daddy, I need you.
Variation 2:
Daddy, I'm hurt!
Variation 3:
Daddy... Where are you?
Variation 4:
Daddy, help me.
Ad blocker interference detected!
Wikia is a free-to-use site that makes money from advertising. We have a modified experience for viewers using ad blockers

Wikia is not accessible if you've made further modifications. Remove the custom ad blocker rule(s) and the page will load as expected.