Description
"A four-pronged pitchfork with a handy grip."
Appearances
Silent Hill: Origins
Silent Hill: Downpour
The Pitchfork is a breakable weapon acquired in Silent Hill: Origins and Silent Hill: Downpour.
Like all other melee weapons, it will break after some use. Similar to the shovel, it has long range and is one of the stronger weapons in the game.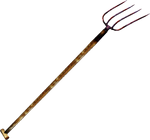 Ad blocker interference detected!
Wikia is a free-to-use site that makes money from advertising. We have a modified experience for viewers using ad blockers

Wikia is not accessible if you've made further modifications. Remove the custom ad blocker rule(s) and the page will load as expected.