Description
"Long brown hair. It was in that 'box'."
Purpose
Combines with bent needle to obtain the elevator key
Location
Room S14, 3F Brookhaven Hospital
Appearances
Silent Hill 2
The Piece of Hair is a puzzle item found in room S14 on the third floor of Brookhaven Hospital in Silent Hill 2. It can be obtained from a box by completing the Louise Puzzle, which is opened after unlocking all four locks.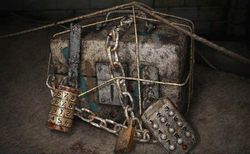 The piece of hair is combined with a bent needle and used in a nearby shower room to fish out an elevator key from a drainage hole. This is an example of an abstract item being used for something other than its intended or obvious purpose, a trait which the series is known for.