Photos
Talk

0
2,029pages on
this wiki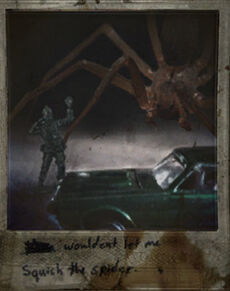 Photos are clues that can be collected in Silent Hill: Homecoming. They are taken by Joshua Shepherd, with what seems to be a Polaroid camera, and left behind in key areas and sometimes hidden away. Their purpose is to provide a background to the people and the story involved in what has befallen Shepherd's Glen. As well as Alex Shepherd's description, it is implied that Josh also writes notes at the bottom of the photo. There are a total of 11 photos in the duration of the game.
Meaning
The photos and their accompanying descriptions serve to elaborate on the people of Shepherd's Glen. They also reveal Josh's opinion of the people, and offer subtle clues to the plot and details of the story. For instance, the photo Alex finds of Nora Holloway reveals Nora's fondness of books, her and Josh's opinion of the characters, as well as (if the player notices) the connection Nora has to Asphyxia's design.
Locations
Photo 1: Alchemilla Hospital (Otherworld), on a gurney in the corridor in front of the restrooms.
Photo 2: Town Hall, Central Room, podium.
Photo 3: Shepherds Glen Park, on the ground behind the Slide.
Photo 4: Shepherd Family House, backyard, Backpack hanging on the fence.
Photo 5: Grand Hotel, 3rd Floor, on the door behind the painting that leads to room 206.
Photo 6: Sheriff's Station, behind the door the the Schism breaks out of after the cutscene with Wheeler.
Photo 7: Sewers, in a small alcove after the main drain chamber.
Photo 8: Dr. Fitch's Office, in the backroom on the counter.
Photo 9: Shepherds Glen, on the ground in front of the Missing Persons Billboard (can be found during the Town Hall chapter).
Photo 10: Shepherd Family House Attic, on the box to the right.
Photo 11: Church, East wing, in the basin.
Trivia
Collecting all the photos in the Xbox 360 version of the game gives you the achievement Josh's Gallery.
Alex's picture is collected before it was actually taken by Joshua at the end of the game.
Gallery
See also