Appearances
Silent Hill: Shattered Memories
Photographic Memory is a photography shop in Toluca Mall that Harry Mason visits in Silent Hill: Shattered Memories. He enters it from a back hallway, and must hop over the counter in order to exit through the main door and make his way to the Cine-Real movie theater.
The shop offers one-hour photo development, photo albums, and frames. Harry can get an echo message, "Problem Child," near a display stand.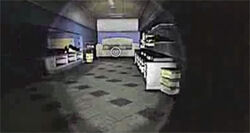 Ad blocker interference detected!
Wikia is a free-to-use site that makes money from advertising. We have a modified experience for viewers using ad blockers

Wikia is not accessible if you've made further modifications. Remove the custom ad blocker rule(s) and the page will load as expected.