Appearances
Silent Hill 2
Silent Hill 3
Sinner's Reward
Silent Hill (film)
Silent Hill: Revelation
Pete's Bowl-O-Rama is a location in South Vale shortly visited in Silent Hill 2 and viewable in Silent Hill 3. It also appears in the comic Sinner's Reward and both Silent Hill films.
Silent Hill 2
Pete's Bowl-O-Rama is first accessed after finding Maria in Rosewater Park, as she and James Sunderland are chasing after Laura.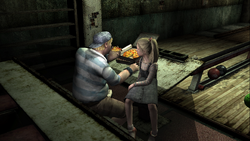 After leaving Maria outside, James enters the bowling alley where he once again meets with Eddie Dombrowski and Laura before she runs away once more. Eddie remains in the bowling alley eating a pizza he inexplicably procured and gives James what little information he knows about Laura.
After leaving the bowling alley, Maria informs James that she had just seen Laura run by and failed to catch up to her. The two then exit through the fence behind Pete's Bowl-O-Rama to find Laura.
Silent Hill 3
The bowling alley is not actually visited in the game, only passed by on Heather Mason's way to Brookhaven Hospital. Heather incidentally uses the same route that James and Maria took to reach the hospital.
Sinner's Reward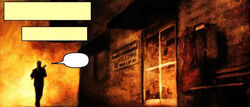 Jack Stanton comes to Silent Hill in an attempt to rescue his lover, Jillian Conway, who has gone missing in the town. While searching for her, Jack is drawn to Pete's Bowl-O-Rama. Finding her dress nailed to the exterior of the building, Jack heads inside when a massive monster explodes out of the building. Killing it in self-defense, Jack is ridiculed for the act by Jillian, who had been inside. Not seeing a monster as Jack had, Jillian saw only an innocent person. Suffering from a nervous breakdown, Jillian runs from Jack and heads to Brookhaven Hospital.
Silent Hill film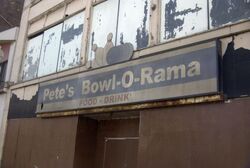 It is a location in the Silent Hill film in Silent Hill, West Virginia that Rose Da Silva visits while she searches for her missing daughter. Both the bowling alley itself as well as the alleyway behind it are seen in the Otherworld and the Fog World.
In the Fog World, the bowling alley appears to be run-down and is littered with debris, fallen bowling pins, and dirt. In the Dark World, it becomes much more sinister, with rusted metal walls and floors.
Immediately outside is an alleyway in which Rose chases the fleeing image of Alessa Gillespie, thinking she is her daughter. The Dark World version of the alleyway contains a disemboweled corpse hanging on a fence, and a second corpse in a body bag, as well as an overturned wheelchair. In this version of reality, the alleyway has metallic flooring and several metal fences covered with black garbage bags arranged in a maze-like fashion. Rose meets the Grey Children here, and they chase her into the bowling alley, where she hits her head and passes out.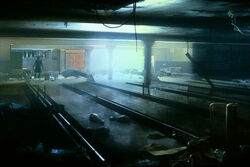 She later awakens to find herself back in the Fog World with Johnny Cash's "Ring of Fire" playing on the jukebox. In contrast, the Fog World version of the alleyway has picket fences replacing the metal ones, no corpses, and a far less maze-like setup.
Silent Hill: Revelation
The bowling alley is a location on-set in Silent Hill: Revelation, albeit never entered.
Trivia
Much of the sequence in the Otherworld version of the alleyway is a shot-for-shot recreation of the same scene in the game. The corpse that Rose finds on the fence is also almost identical to the one Harry Mason sees in the game.
Gallery
Silent Hill 2
Silent Hill film
Ad blocker interference detected!
Wikia is a free-to-use site that makes money from advertising. We have a modified experience for viewers using ad blockers

Wikia is not accessible if you've made further modifications. Remove the custom ad blocker rule(s) and the page will load as expected.