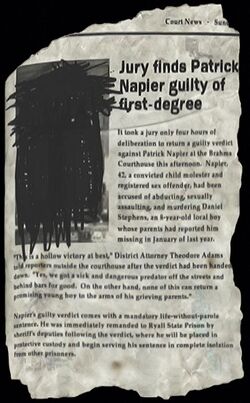 The Patrick Napier Article in Silent Hill: Downpour is located on the floor next to a fountain in the front yard of the St. Maria's Monastery in Chastain Heights. This article is referring to the final verdict on Patrick Napier, whom was accused of abducting, sexually assaulting and murdering Daniel Stephens. The jury reached a guilty verdict, thus sentencing him to life-without-parole sentence in protective custody, and complete isolation from other inmates in Ryall State Prison.
Patrick Napier is not accused for these charges in relation to Charlie Pendleton, even though a "missing child" poster features the protagonist's son and states that he was possibly abducted (even though it doesn't specifically state that this was Napier). It's safe to assume though that there was probably insignificant evidence to prosecute him for this- more reason for Murphy Pendleton to exact his revenge.
Transcript
Jury finds Patrick Napier guilty of first-degree
It took a jury only four hours of deliberation to return a guilty verdict against Patrick Napier at the Brahms Courthouse this afternoon. Napier, 42, a convicted child molester and registered sex offender, had been accused of abducting, sexually assaulting, and murdering Daniel Stephens, an 8-year-old local boy whose parents had reported him missing in January of last year.
"This is a hollow victory at best," District Attorney Theodore Adams told reporters outside the courthouse after the verdict had been handed down. "Yes, we got a sick and dangerous predator off the streets and behind bars for good, On the other hand, none of this can return a promising young boy to the arms of his grieving parents."
Napier's guilty verdict comes with a mandatory life-without-parole sentence. He was immediately remanded to Ryall State Prison by sheriff's deputies following the verdict, where he will be placed in protective custody and begin serving his sentence in complete isolation from other prisoners.