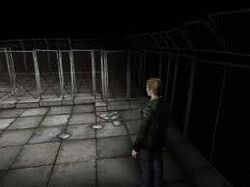 A Patient's Diary can be found on the roof of Brookhaven Hospital in Silent Hill 2. It is presumably written by an unknown patient at the hospital who is suffering from depression, though the real author of the diary is unknown, and it is theorized it may belong to Angela Orosco or Mary Shepherd-Sunderland. Reading it increases the chances of obtaining the "In Water" ending.
A line from the diary reads, "Would they have saved me if I didn't have a family to feed?" Jeremy Blaustein seems to have taken quite a liberty when translating this sentence. The Japanese script says, "Would they have saved me if there was no one who would grieve for me?"
Transcript
"May 9

Rain.

Stared out the window all day.

Peaceful here — nothing to do.

Still not allowed to go outside.


May 10

Still raining.

Talked with the doctor a little.

Would they have saved me if

I didn't have a family to feed?

I know I'm pathetic, weak.

Not everyone can be strong.


May 11

Rain again.

The meds made me feel sick

today.

If I'm only better when I'm

drugged, then who am I anyway?


May 12

Rain as usual.

I don't want to cause any more

trouble for anyone, but I'm a

bother either way.

Can it really be a such a sin to

run instead of fight?

Some people may say so, but they

don't have to live in my shoes.

It may be selfish, but it's what

I want.

It's too hard like this.

It's just too hard...


May 13

It's clear outside.

The doctors told me I've been

released — that I've got to go

home.

I --------------"