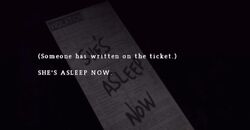 The Parking Ticket is one of multiple, anonymous notes found on random objects scattered throughout town in Silent Hill: Origins. It can be found on the hood of a blue car on Toluca Ave. near The Family Butcher.
It is speculated that the "she", which the note refers to, is Alessa Gillespie, whom is described by Dahlia Gillespie in a telegram with Dr. Michael Kaufmann as being in what seems to be a comatose state. It is also speculated that this note, along with the others similar to it in nature, may be written by Dahlia or the doctor.
Transcript
"(Someone has written on the ticket.)


SHE'S ASLEEP NOW."
Ad blocker interference detected!
Wikia is a free-to-use site that makes money from advertising. We have a modified experience for viewers using ad blockers

Wikia is not accessible if you've made further modifications. Remove the custom ad blocker rule(s) and the page will load as expected.