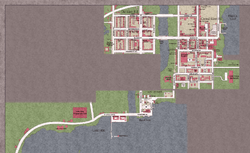 Paleville is the northern counterpart to South Vale in Silent Hill, Maine. Paleville is crossed by a river that flows into Toluca Lake. It is linked to South Vale by Sandford St.
Paleville contains various landmarks, such as an elementary school, a hospital, a theater, an amusement park, two hotels, and more.
It contains three districts:
For more information on each individual district, please view its individual article.
Ad blocker interference detected!
Wikia is a free-to-use site that makes money from advertising. We have a modified experience for viewers using ad blockers

Wikia is not accessible if you've made further modifications. Remove the custom ad blocker rule(s) and the page will load as expected.