The "Wonder" painting is wonderful
Purpose
Put it on the table in the basement of the Art Gallery on Laymond Avenue and arrange together with other paintings.
Location
Apartment building through which you enter Pearl Creek, in the kitchen of the 1st floor apartment.
Appearances
Silent Hill: Downpour
"Wonder" is a painting needed for "The Art Collector" sidequest in Silent Hill: Downpour.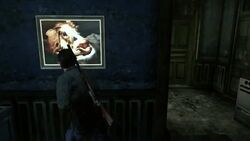 It is found in the kitchen on the ground floor of Hillside Apartments. "Wonder", along with the other paintings, belongs on a table in the basement of Fenders Fine Art and Appraisals on Laymond Avenue.
Trivia
A rocking chair will be swaying back and forth until the painting is collected. Slow music will also play both before and after the painting is collected. Rocking chairs are encountered frequently in the Otherworld transition, such as the first one that occurred within the closet room of Devil's Pitstop. 
See also
Ad blocker interference detected!
Wikia is a free-to-use site that makes money from advertising. We have a modified experience for viewers using ad blockers

Wikia is not accessible if you've made further modifications. Remove the custom ad blocker rule(s) and the page will load as expected.